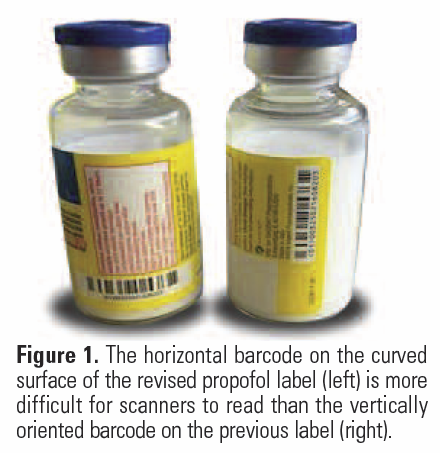 The recently revised label on propofol 200 mg/20 mL vials by Sagent Pharmaceuticals is likely to cause problems during barcode scanning now that the barcode is printed horizontally around a curved surface (Figure 1).
Previously, the barcode was printed vertically and was easy to scan. We have received reports of significant scanning issues, and one organization that reported this is now purchasing the drug from a different source. The October 19, 2017, issue of the ISMP Medication Safety Alert! included an article about unreadable barcodes with examples of other products with similar issues. ISMP has notified both the US Food and Drug Administration (FDA) and Sagent. We are investigating whether other products and strengths have been similarly revised. Other pharmaceutical companies need to take notice, as scanners often can't read linear barcodes printed on a curved surface.
More Alerts
URGENT – HAZARDOUS SITUATION – PLEASE REACT IMMEDIATELY ISMP is aware of an extremely hazardous packaging error involving certain cisatracurium products from Meitheal Pharmaceuticals. While the outer carton identifies the vials inside as cisatracurium, the vials contained in the carton are labeled
We recently learned about three cases of accidental spinal injection of tranexamic acid instead of a local anesthetic intended for regional (spinal) anesthesia. Container mix-ups were involved in each case. In one case, a patient scheduled for knee surgery received tranexamic acid instead of
ISMP and the US FDA continue to receive medication error reports about patients and caregivers who apply only the adhesive cover to the skin, without the intended cloNIDine medication patch.