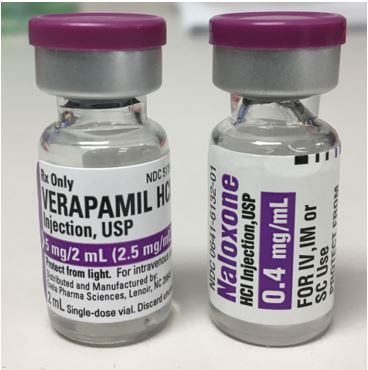 Imagine giving the opioid antagonist naloxone in error to someone with severe pain who is receiving morphine via patient controlled analgesia. That risk exists in hospitals that stock verapamil injection 5 mg per 2 mL vials manufactured by Exela Pharma Sciences and naloxone injection 0.4 mg per mL vials by West-Ward Pharmaceuticals. The vials use the same colors for the caps and container labels. The vials are also the same size and shape. Variation in the orientation of the printing on the labels may help differentiate them. Still, these vials look similar enough to create risk of mix-ups. We recommend hospitals purchase one or the other from a different manufacturer.
More Alerts
URGENT – HAZARDOUS SITUATION – PLEASE REACT IMMEDIATELY ISMP is aware of an extremely hazardous packaging error involving certain cisatracurium products from Meitheal Pharmaceuticals. While the outer carton identifies the vials inside as cisatracurium, the vials contained in the carton are labeled
We recently learned about three cases of accidental spinal injection of tranexamic acid instead of a local anesthetic intended for regional (spinal) anesthesia. Container mix-ups were involved in each case. In one case, a patient scheduled for knee surgery received tranexamic acid instead of
ISMP and the US FDA continue to receive medication error reports about patients and caregivers who apply only the adhesive cover to the skin, without the intended cloNIDine medication patch.