Quick reference guide to ISMP's list of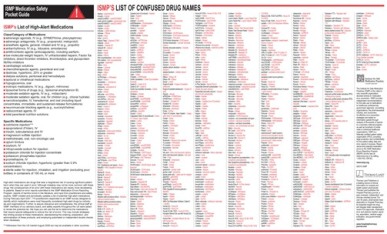 high-alert medications, documented drugs with look-alike-sound-alike risk, and error-prone abbreviations, symbols, and dose designations. 
**Sold in packs of 5**
Pocket Guide - Medication Safety Pocket Guide (pack of 5)
More Books, Posters, and DVDs
Award-winning DVD introduces viewers to "Just Culture".
Healthcare practitioners should use the exact metric weight when writing drug orders. This poster discourages prescribing only by volume or dosage limit, which can be ambiguous, and provides a correct sample order.
It is uncommon to need more than 2 or 3 tablets, capsules, vials, ampules, etc. to prepare a single dose of medication. This poster alerts healthcare professionals to this fact and urges verifying with a pharmacist medication doses that seem to require more than 2 or 3 of anything.