Crushing or splitting some oral medications may alter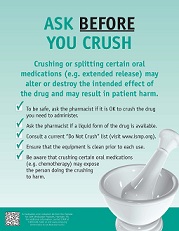 the intended effect and possibly result in patient harm. This poster provides a checklist of questions that healthcare practitioners should ask before they consider crushing or splitting medications.
Poster - Ask Before You Crush
Dimensions: 8.5 " w x 11" h
Access this Free Resource
You must be logged in to view and download this document.
More Books, Posters, and DVDs
Award-winning DVD introduces viewers to "Just Culture".
This poster provides examples of medication orders with ambiguous or difficult-to-read abbreviations as well as how they should be written out.
Quick reference guide to several of ISMP's lists and resources.