Crushing or splitting some oral medications may alter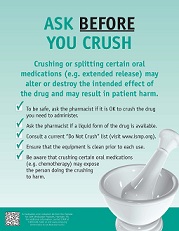 the intended effect and possibly result in patient harm. This poster provides a checklist of questions that healthcare practitioners should ask before they consider crushing or splitting medications.
Poster - Ask Before You Crush
Dimensions: 8.5 " w x 11" h
Access this Free Resource
You must be logged in to view and download this document.
More Books, Posters, and DVDs
Award-winning DVD introduces viewers to "Just Culture".
Commonly referred to as the "Do Not Crush" list, healthcare professionals are alerted about medications that should not be crushed.
Counsels healthcare practitioners to always spell out drug names.