Healthcare practitioners should always prepare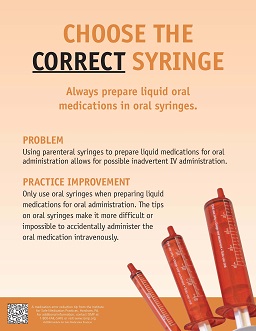 liquid oral medications in oral syringes. This poster emphasizes that the tips on oral syringes make it more difficult or impossible to accidentally administer the oral medication intravenously.
Poster - Choose The Correct Syringe
Dimensions: 8.5" w x 11" h
More Books, Posters, and DVDs
Award-winning DVD introduces viewers to "Just Culture".
Healthcare practitioners should use the exact metric weight when writing drug orders. This poster discourages prescribing only by volume or dosage limit, which can be ambiguous, and provides a correct sample order.
Verbal and telephone medication orders can be misheard, misunderstood, or mistranscribed. This poster gives healthcare practitioners a checklist for safe order communication.