When used in prescription writing, the handwritten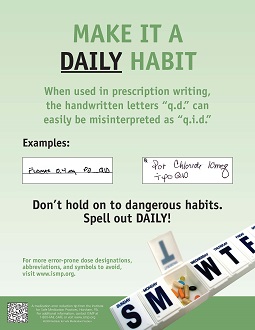 letters "q.d." can be misinterpreted as "q.i.d." This poster presents sample drug orders with those abbreviations that show how they can be confused, and emphasizes that they be spelled out for greater clarity.
Poster - Make It A Daily Habit
Dimensions: 8.5" w x 11" h
More Books, Posters, and DVDs
Award-winning DVD introduces viewers to "Just Culture".
Unlabeled syringes, basins, bowls, and cups can be dangerous.
It is essential that healthcare practitioners place a zero in front of decimal points in drug dosages to help prevent ten-fold overdoses. This poster emphasizes that without the zero, the decimal point is often overlooked, and provides an example.