It is uncommon to need more than 2 or 3 tablets,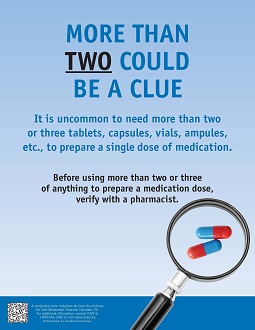 capsules, vials, ampules, etc. to prepare a single dose of medication. This poster alerts healthcare professionals to this fact and urges verifying with a pharmacist medication doses that seem to require more than 2 or 3 of anything.
Poster - More Than Two Could Be a Clue
Dimensions: 8.5" w x 11" h
More Books, Posters, and DVDs
Award-winning DVD introduces viewers to "Just Culture".
Commonly referred to as the "Do Not Crush" list, healthcare professionals are alerted about medications that should not be crushed.
It is essential that healthcare practitioners place a zero in front of decimal points in drug dosages to help prevent ten-fold overdoses. This poster emphasizes that without the zero, the decimal point is often overlooked, and provides an example.