When drug names are abbreviated, they may be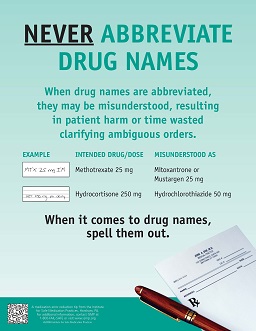 misunderstood, resulting in patient harm or time wasted clarifying ambiguous orders. This poster presents examples of orders where the intended drug/dose was misunderstood and counsels healthcare practitioners to always spell out drug names.
Poster - Never Abbreviate Drug Names
Dimensions: 8.5" w x 11" h
More Books, Posters, and DVDs
Award-winning DVD introduces viewers to "Just Culture".
Healthcare practitioners should always prepare liquid oral medications in oral syringes. This poster emphasizes that the tips on oral syringes make it more difficult or impossible to accidentally administer the oral medication intravenously.
Crushing or splitting some oral medications may alter the intended effect and possibly result in patient harm. This poster provides a checklist of questions that healthcare practitioners should ask before they consider crushing or splitting medications.