Unlabeled syringes, basins, bowls, and cups can be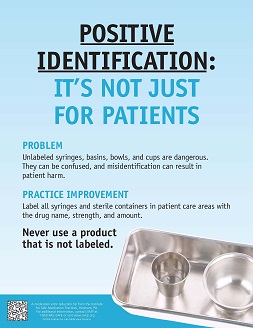 dangerous. This poster recommends that healthcare practitioners label all syringes and sterile containers in patient care areas with the drug name, strength, and amount.
Poster - Positive Identification
Dimensions: 8.5" w x 11" h
More Books, Posters, and DVDs
Award-winning DVD introduces viewers to "Just Culture".
This poster provides examples of medication orders with ambiguous or difficult-to-read abbreviations as well as how they should be written out.
Counsels healthcare practitioners to always spell out drug names.